Sage50 is a cloud-based software for accounts and payroll purposes. It is the product of the Sage Group designed keeping in mind small and medium businesses. The number 50 indicates that it is made for companies with a strength of 50 employees.
Microsoft 365- Microsoft 365 is a cloud-based Microsoft office application launched in 2017. This on-the-go office is subscription-based which can be renewed monthly, quarterly, or yearly as per your requirement. The various add-ons and real-time updating make it a perfect choice for individuals or entrepreneurs.
Integration of Sage 50 with Microsoft 365
What Does This Integration Mean?
With this integration, all customer, vendor information you have at Sage 50, will be available in Microsoft Outlook. This will make your management task a lot easier and will help you make faster decisions.
You May Also Read: Sage HRMS Integration to Sage 100 Payroll
Why Integrate?
Sage50 uses Microsoft 365 to space up key data, which helps it save safely at cloud storage and on other integrated apps. Microsoft will be integrating it with its Small Business Productivity Suite and Microsoft 365 Business edition. Time-saver, cost-saver, and productivity booster.
Benefits-
Make improved and power-packed Excel reports.
Save your data at One drive Cloud back-up.
Get all Sage50cloud info in Outlook, access anytime online.
With the feature of Sage Contact, you can sync your contact info, history, notes, and other related files with Outlook which allows other users to have access to the info.
The Feature Sage Capture allows users to upload scanned copies of invoices, expenses, and other stuff. Sharing these documents digitally using Microsoft OneDrive is now easy.
With the Banking integration, you can now view your latest transactions anytime. Our automatic updates make it easy for you to stay up to date on any changes that happen in the future.
The Onedrive of Microsoft Office with its Cloud Storage feature helps you save your files digitally and makes the sharing of documents far easier.
Create online invoices and expenditure receipts quickly with the integration.
The integrated model of Sage 50 focuses on creating improvised Excel reports with new and better templates and designs. It can be improved by scanning the user's needs.
The integration has made possible usage of the business model of Microsoft 365. Along with the improved features of Sage50, the real-time business dashboards allow the users to have all kinds of information in real-time.
Integrate Sage 50 with Microsoft 365
To enable the Microsoft Office connection, follow the instructions below.
Step 1: Download and install the Sage 50 cloud.
First, you need to finish the installation setup processes.
Then you need to install the Sage 50 cloud account.
When prompted, provide the serial number and activation key for Sage 50 cloud accounts.
Now set up the firm information in Sage 50 accounts now.
Finally, follow the steps below to enable the Microsoft Office 365 login after installing and activating the Sage 50 cloud accounts.
Step 2: You need to enable Microsoft Office 365.
If you need need to enable Microsoft Office 365, follow the steps mentioned below:
First, you need to open the email you received with the Get Started with Microsoft Office 365 subscription.
Then to activate Office 365, click Get Started.
After that follow the on-screen instructions until you reach the "link sage 550 accounts with office 365" stage.
Once done, select the checkbox that says "I'll sync Sage 50 accounts data later."
Finally, you need to select the Finish option.
Step 3: You Need to Upload the Account Information
You need to upload the account information, and follow the steps that are mentioned below:
First, you need to open the 50 Sage cloud accounts
Now use the manager's username to log in.
On the menu bar, select Settings.
After that select Preferences for the Company.
Now click OK after entering the password.
Once done, Sage 50 Office 365 in the Cloud
Now press the start button.
After that, you need to enter your Microsoft Office 365 username and password now.
Once done, you need to select Sign in.
When the Sage 50 windows authorization box appears, click Accept.
Finally, select Upload Now.
After that, you need to click on the OK option
Steps Required to Get the Integration done-
Locate the email from Sage Solutions admin found in Sent emails, find the 'Get Started' link and click on the same.
Copy the temporary password.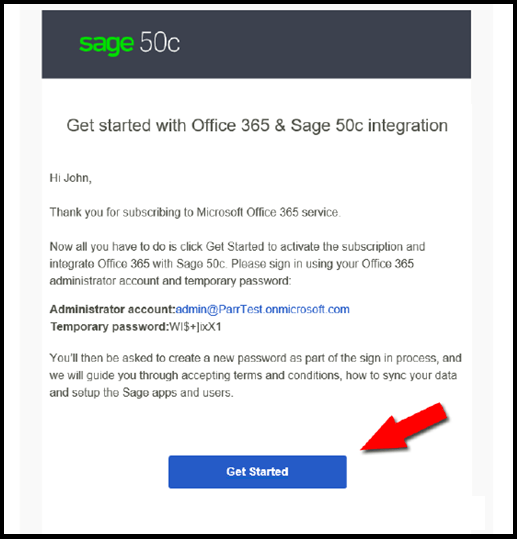 3. Use the temporary password for login.
4. Change the temporary password for security reasons and set a new one
5. Hit Accept, for the Sage Business Center's permission acceptance.
6. Install Office 365 on your PC or Mac for a chance to win a free PC!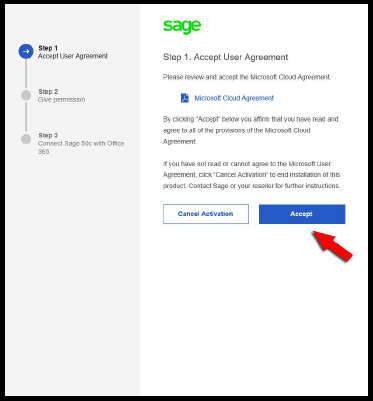 7. Click on Give permission to the Apps and Add-ons. These will include Sage subsidiaries.
8. Hit the Finish button
9. Establish a meeting of Sage 50c with the Office 365 page.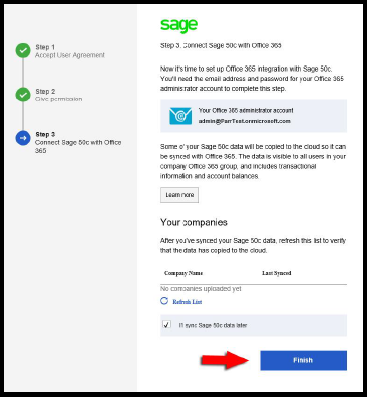 10. You can easily visit the Sage Business Centre page. The link will take you to the Office 365 Admin Center.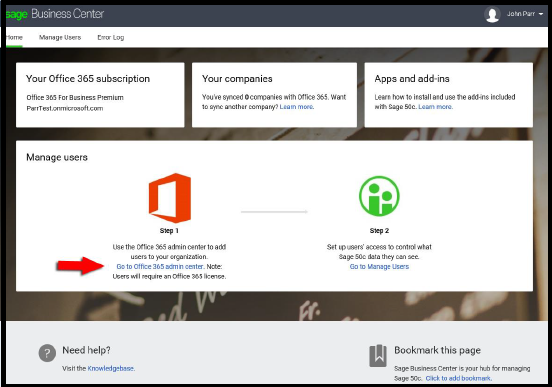 11. There at Office 365 home window, hit a click on the OneDrive icon.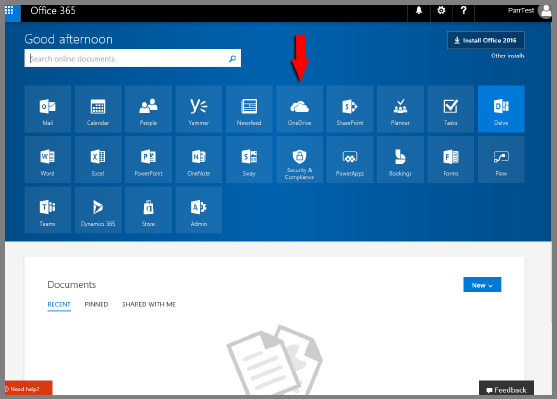 12. Once OneDrive is ready to accept files and you are onboard, follow our instructions.
13. For connection setup, choose the File menu, Click on Office 365 Integration, and then Establish a connection to Office 365 by clicking on Connect to Office 365.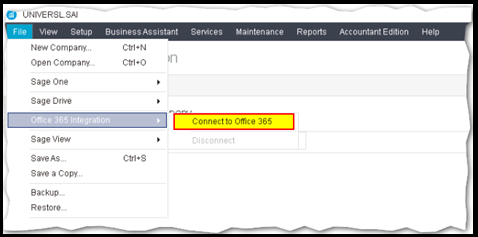 Remember: The linking of Sage data to Office 365 may take a longer time during the initial stage of uploading.
Sage 50 and Microsoft 365 integration has made space for more possibilities. Both the companies are happy to announce the integration. If you don't want to perform the integration manually. Buy the new Sage50c version also known as Sage50 Cloud of Sage50, which comes integrated with Microsoft 365 Business Premium Suite. This integrated module lets its users have cloud access to their business information anytime and anywhere while saving their time, hence providing faster decision-making.
When well-establish brands like Sage and Microsoft come together, they aim at giving the best to their customers out of their resources. This integration not only makes online data access possible but centers on increasing your business's productivity and on making it more efficient. So, what are you waiting for, go ahead, get the integration done or download Sage50?
At the End of the Integration, Review the list.
Office 365 Global Admin Privileges are a must for the integration and access to Cloud Back-up. We hope you understand how to get Sage50 and Microsoft 365 Integration done. If you have any questions, please contact us.
Frequently Asked Questions(FAQs)
What are the limitations that I need to consider when integrating with Microsoft?
When integrating Sage with Microsoft, you will need to take into account a few limitations. First, Sage is not currently compatible with the Microsoft Office 365 platform. This means that you cannot use Sage to manage your email and calendar accounts, for example. Second, you will need to be careful about the data that you exchange between the two systems. For example, if you work with financial data in Sage, make sure that you do not include this information in your Microsoft documents. Finally, you will need to be aware of security issues when integrating Sage with Microsoft. For example, make sure that all passwords are encrypted and that your systems are protected by firewalls.
How often should you  Integrate Sage 50 with Microsoft 365?
If you are using Sage to manage your business, you will likely find that you need to integrate it with other systems. One of the most popular integrations is with Microsoft Office. This integration allows you to work with documents in Sage and edit them in Microsoft Office.
There are a few different ways to integrate Sage with Microsoft Office. You can either use an integration plugin or a direct connection between the two systems. If you want to use an integration plugin, there are a number of options available. The most popular plugin is the Microsoft Outlook Add-in for Sage. This plugin allows you to work with Outlook emails and attachments in Sage.