Sage50 is a cloud-based software for accounts and payroll purposes. It is the product of the Sage Group designed keeping in mind small and medium businesses. The number 50 indicates that it is made for companies with a strength of 50 employees.
Microsoft 365- Microsoft 365 is a cloud-based Microsoft office application launched in 2017. This on-the-go office is subscription-based which can be renewed monthly, quarterly, or yearly as per your requirement. The various add-ons and real-time updating make it a perfect choice for individuals or entrepreneurs.
Integration of Sage 50 with Microsoft 365 
What does this integration mean-?
With this integration, all customer, vendor information you have at Sage 50, will be available in Microsoft Outlook. This will make your management task a lot easier and will help you make faster decisions.
Why Integrate?
Sage50 uses Microsoft 365 to space up key data, which helps it save safely at cloud storage and on other integrated apps. It gets integrated with Microsoft's Small Business Productivity Suite and with Microsoft 365 Business version. Hence, a time-saver, cost-saver, and productivity booster.
Benefits-
Make improved and power-packed Excel reports.
Save your data at One drive Cloud back-up.
Get all Sage50cloud info in Outlook, access anytime online.
With the feature of Sage Contact, you can sync your contact info, history, notes, and other related files with Outlook which allows other users to have access to the info.  
The feature Sage Capture allows users to upload scanned copies of invoices, expenses, and other stuff. Sharing these documents digitally using Microsoft OneDrive is now easy.
With the integration, you can now establish a direct connection with your bank. Hence, the latest transactions get automatically updated and you can view them anytime in your business account.
The Onedrive of Microsoft Office with its Cloud Storage feature helps you save your files digitally and makes the sharing of documents far easier.
The online generation of invoices and expenditure receipts is made easy with the integration.
The integrated model of Sage 50 focuses on creating improvised Excel reports with new and better templates and designs. Thus, help in making user-oriented decisions.
The integration has made possible usage of the business model of Microsoft 365. Along with the improved features of Sage50, the real-time business dashboards allow the users to have all kinds of information in real-time. 
Steps required to get the Integration done-
Step I- Locate the email received from Sage Solutions admin, find the 'Get Started' link and click on the same.
Step II- Copy the temporary password.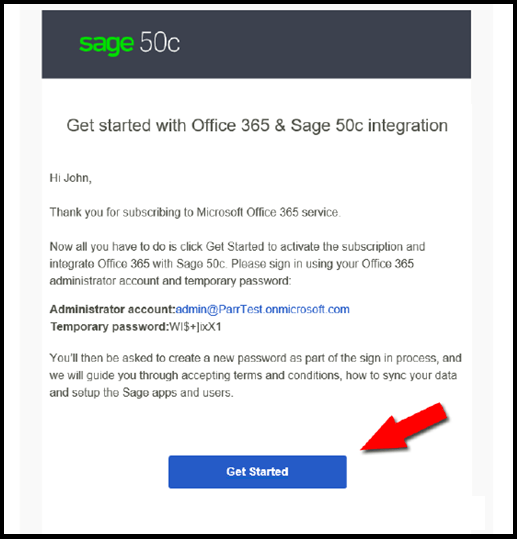 Step III- Use the temporary password for login.
Step IV- Change the temporary password for security reasons and set a new one
Step VI- Hit Accept, for the Sage Business Center's permission acceptance.
Step VII- Accept Microsoft Cloud User Agreement to proceed further.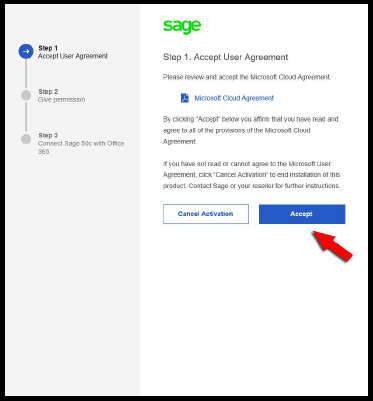 Step VIII- Click on Give permission to the Apps and Add-ons. These will include Sage subsidiaries.
Step IX- Hit the Finish button
Step X- Establish a meeting of Sage 50c with the Office 365 page.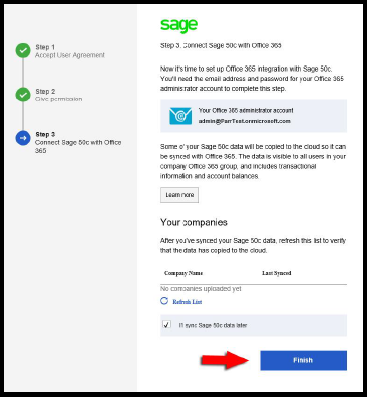 Step XI- You will be headed to Sage Business Centre page, click the link taking you to the Office 365 Admin Center.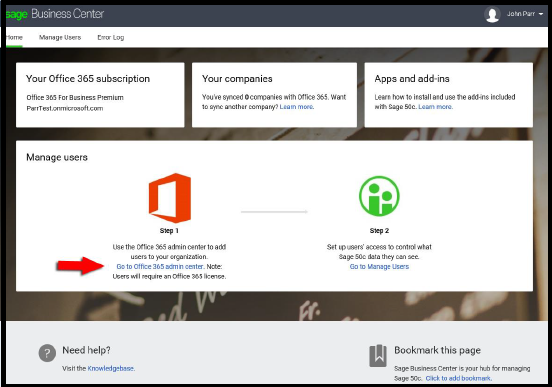 Step XII- There at Office 365 home window, hit a click on the OneDrive icon.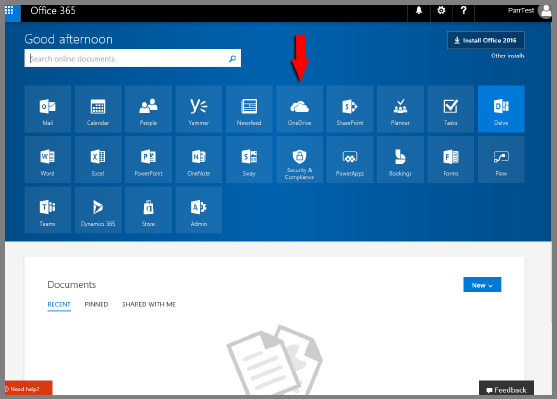 Once OneDrive is prepared to accept files and you are onboard, the Integration is done.
Step XIII- For connection setup, choose the File menu, Click on Office 365 Integration, and then Establish a connection to Office 365 by clicking on Connect to Office 365.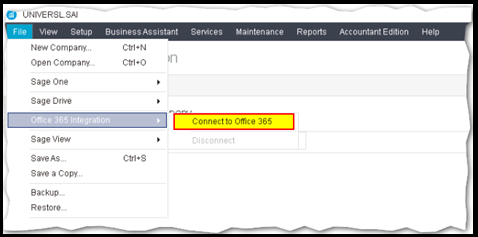 Remember: The linking of Sage data to Office 365 may take a longer time during the initial stage of uploading.
Sage 50 and Microsoft 365 integration has made space for more possibilities. Both the companies are happy to announce the integration. If you don't want to perform the integration manually. Buy the new Sage50c  version also known as Sage50 Cloud of Sage50, which comes integrated with  Microsoft 365 Business Premium Suite. This integrated module lets its users have cloud access to their business information anytime and anywhere while saving their time, hence providing faster decision-making.
When well-establish brands like Sage and Microsoft come together, they aim at giving the best to their customers out of their resources. This integration not only makes online data access possible but centers on increasing your business's productivity and on making it more efficient. So, what are you waiting for, go ahead, get the integration done or download Sage50c?
Point to be noted while performing the integration manually-
Office 365 Global Admin Privileges are a must for the integration and access to Cloud Back-up.
Hope! You have got the idea of How to get Sage50 and Microsoft 365 Integration done, if the concept is yet to be cleared, get support.